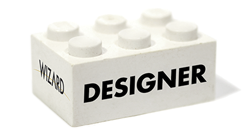 RF DESIGNER
RF Designer is the PC-based "design and configuration center" that creates and maintains the RF applications. In addition, integration requirements for all external business applications are defined and linked.
RF Designer provides the means to:
Add or modify business logic for the displaying, capturing and validating of information.
Add or modify rules that control reading and writing to multiple data sources.
Create forms used by mobile terminals.
Enable capture of special 1D and 2D barcode symbologies.
Perform data calculations and formatting.
Quickly modify existing mobile applications for real-world optimization and testing.

Ultimately, Wizard allows your users to collect and enter data in your own unique way and then seamlessly integrate with your backoffice system.

Meanwhile, no critical processes are compromised.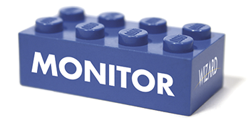 RF MONITOR
RF Monitor is the background PC application which monitors communication between the RF Server and connected RF Mobile terminals. RF system settings can be monitored and changed as needed, and an event log is generated for every connection.
It's probably no surprise that your back-end accounting system doesn't always manage information like your operation actually works.

With Wizard, you can cater to BOTH your workforce AND your back-office requirements.
Features of RF Monitor include:
Display list of activity and state of each RF mobile terminal.
Event log of all system errors and attempted SQL commands for performance analysis.
Remote manipulation of RF Server as needed.
Quick-Launch Button to execute the RF Designer and RF Mobile Client for real-time testing.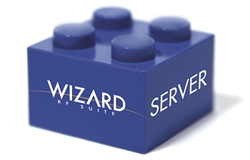 RF SERVER
RF Server is the PC-based server application that performs all gateway communications and business logic between the RF Mobile terminals and the database applications. Workloads between connected clients are automatically adjusted so that a single client transaction does not tie up other server transactions. No matter how many mobile terminals are used, RF Server has the ability to connect as a single user to all database servers so that only one database license is needed.
Seamless integration has been performed with Oracle, MAS, Timberline, Microsoft Dynamics, and more. Tested servers include: MS-SQL, MySQL, Oracle80i, DB2, Providex, and Pervasive SQL.
RF Server was developed as a 32-bit multithreaded application to provide a high-level of performance, scalability, and control over all connected clients. Each connected client runs independently within its own application thread thereby allowing scalable performance results for each additional client. The main thread for memory resource usage and processor control manages all client threads.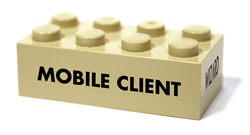 RF MOBILE CLIENT
RF Mobile Client is a PC-based virtual mobile client that can be used to test application designs. When appropriate, the RF Mobile Client can also be used on wired or wireless PC workstations for fixed-station solutions without the need for purchasing actual mobile terminals.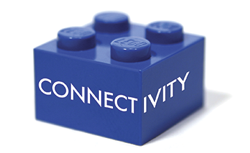 RF CONNECTIVITY
Wizard modules combine to achieve data validation, review, and processing at three separate tiers. This implementation allows a layer of separation between the data input and queries (User-interface logic), validation of data (Business logic), and data retrieval/storage (Data logic). Software applications use a thick-client implementation that provides a robust and dynamic interface for both client and server functionality.
Specifications
The Wizard Suite of Products supports all current models from Motorola, Intermec, Honeywell, LXE, and Datalogic. Many legacy Symbol terminals are also supported. Please contact us for more information.
Please note: 802.11a/b/g/n wireless terminals and infrastructure required for RF functionality.